Tissue, eye and organ donation is a team effort.
Donation is a complex process that relies on close coordination between the donor's family, the donor's hospital and the designated/local donation agency, also known as an Organ Procurement Organization (OPO). When people say yes to donation they agree to be a part of a shared mission to save and heal lives.
Death is declared

Tissue, eye and organ donation can only be an option once death is imminent. The medical professionals at the hospital who determine death will always try to do everything in their power to save the life of their patient. Once it is determined that all life-saving options are exhausted, the hospital will contact the designated local donation agency (OPO) to evaluate if donation is a viable opportunity. To avoid bias and preserve the rights of the donor and their family, the hospital's role in the donation process is completely separate from the work of the donation agency.
Potential for donation is evaluated

Being an organ donor requires an extensive medical evaluation, making it an incredibly rare and special opportunity. Less than 1% of people qualify to donate. Following a strict medical protocol, all deaths are evaluated to see if there's a possibility of donation.

In order to become an organ donor, a person must be in a hospital and on a ventilator, which works to keep organs functioning after death until they are able to be transplanted. People who die outside of a hospital may still have the opportunity to help others through the gifts of tissue and eye donation, which require different steps and timing than the process of keeping organs like the heart, kidneys or liver ready for transplantation.

In the state of Texas, the opportunity for organ donation is evaluated by one of the three federally designated OPOs. Learn more about them here.
The decision to donate

If the potential donor registered to be a donor during their lifetime, the donation agency will share that decision with the donor's family and honor the donor's choice. If they didn't register as a donor, the family is asked to make a decision on their loved one's behalf. That's why it's so important to share your wishes with your loved ones during your lifetime, regardless of your decision to register or not.
Assessment by medical professionals

Through medical tests and talking with the potential donor's family, medical professionals identify which organs and tissues are able to be transplanted. Organs able to be transplanted include the heart, lungs, liver, kidneys, pancreas and intestine. The team evaluates each organ individually to determine what's able to be transplanted. People with common health conditions can be donors so, for example, a person who is diabetic might not be able to donate their pancreas, but may be able to donate their lungs.
Organs matched with waiting recipients

Medical information and test results are sent to the United Network for Organ Sharing (UNOS), the organization that manages the national transplant waiting list, to match each donated organ with a waiting recipient. Organs are matched based on blood and tissue type, severity of illness, geography and size. Factors like celebrity status and wealth are not considered.

Organs and tissues are never matched based on the recipient's race and ethnicity. In fact, people of different races frequently match one another. However, compatible blood type and tissue markers play a critical role in successful transplantation and are more likely to be found among members of the same ethnicity. The greater the diversity of donors, the greater potential there will be to make more transplants possible.

Once UNOS has shared the list of the best matches for each of the donor's organs, the OPO team calls the potential recipient's transplant center to offer the organ to their waiting recipient. If a center deems an organ not a best match for their patient, the OPO team member calls the next person on the list until all organs have been accepted for transplant. Reasons a transplant center might not accept an organ include the recipient being sick or not healthy enough to undergo surgery at that time.
Organ Recovery Surgery

After all organs have been accepted on behalf of waiting recipients, the surgeons from the accepting transplant centers travel to the donor's hospital to recover the organs for their patients. Like any surgery, organ donation takes place in a hospital operating room with great care and concern for the donor and their family.
Transplantation

Once the donor's organs have been recovered, the transplant surgeons return to their center to transplant them into the waiting recipient. Organs need to be transplanted as soon as possible after recovery, so time is of the essence.
Tissue and cornea donation

Once organ recovery has taken place, tissues and corneas are recovered. Tissues that can be donated include bones, tendons, heart valves, veins, skin and corneas. These special gifts can help up to 75 people! For example, skin grafts can help prevent infection and heal burn patients or support healing in breast cancer patients after a mastectomy. Donated tendons are often used in sports injury repair, such as an ACL or MCL repair.
Follow-up

Once donation is complete, the donor's body is carefully and respectfully reconstructed. Contrary to common misconceptions, organ and tissue donors can have an open casket funeral or viewing if the family chooses. The family will receive general information about the people who received the gift of their loved one's organs and tissues and may reach out to their recipients if they choose.

Donor families often share that donation brings them comfort and peace during a time of great loss, and many go on to advocate for more people to register as donors.
Are you a registered donor?
Check your donation status or take a few minutes to register today.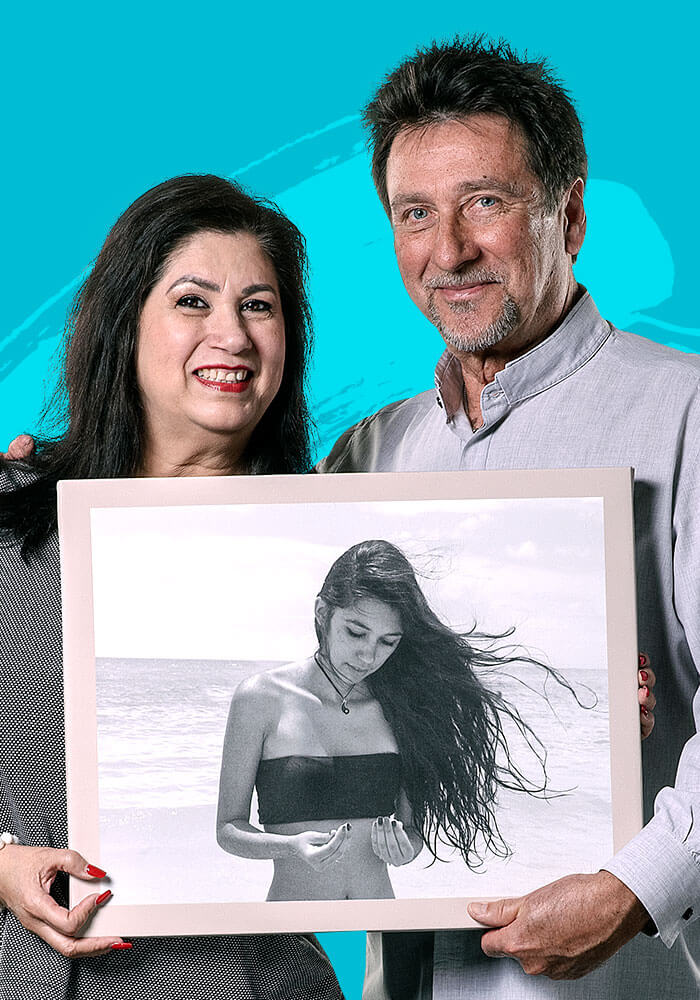 Krizia's decision
Krizia was a selfless, nature loving, free spirited girl who signed up to be a donor when she got her license. She said: "Mom, did you know I can donate my organs if I die and I could help others in need?" She emphasized the fact that it made her very happy to be able to help those in need of organs in the event of her passing.
A few years later when Krizia passed away, the OPO staff reminded us that she was a registered donor. I immediately said "NO, I do not want her fragile body to go through any more trauma!" A team member from the OPO took us aside and gently explained the process. My husband reminded me of that night at the dinner table and how Krizia was so proud and excited to be a registered donor. It was then that I said, "That's right, she made the noble decision to become a donor and her decision to give life is becoming a reality." Her organs saved the lives of three people and many others were healed through her tissue donation. Her decision helps us, because we feel she has accomplished her mission in life.
Krizia's story reminds us that the gift of donation is a powerful, human gift from one person to another. View more stories of Texans touched by donation
You have the power to donate life
Your generosity can save as many as eight lives through organ donation, bring sight to others with cornea donations and improve yet another 75 lives or more through tissue donation.